Podcast: Play in new window | Download
Subscribe: iTunes | Android | RSS
It's a shorter episode this week, where the Superlaties managed to stay somewhat on topic! Rhiannon did some of her homework, so they are actually able to talk about Daredevil #7, where Elektra has a big secret for Matt, and Foggy gets to be so right, about everything.
Shelby talks about that cover, the one she knows Rhiannon knows. This is it:
We'll give you a moment to cool off, after looking at that. Oh wait, but here's the Punisher cover that she was comparing it to.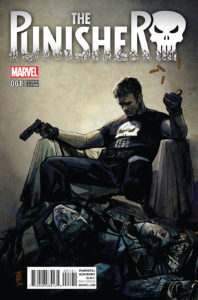 Our Superlaties theorize what the Punisher series could include. Can Frank hold a whole show? Will Matt and Karen keep showing up? Will they include his origin story?
Finally, Rhiannon reports on what the comic book store was like at 8 a.m. on a Wednesday, when the new issues are released. She may or may not have met the real Matt Murdock.
Somehow, this episode ends without Shelby talking about Game of Thrones. It's a miracle!